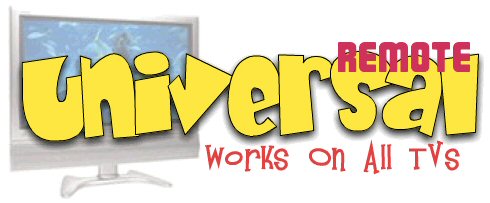 Sony Universal Remote Code
Below are the Sony Universal Remote Control Codes for the RM-Y165. These codes cover VCR, MD, DVD, Cable and DBS Recievers.
VCR Codes:
Sony - 301,302,303
Admiral (M. Ward) - 327
Aiwa - 338,344
Audio Dynamic - 314,337
Broksonic - 319,317
Canon - 309,308
Citizen - 332
Craig - 302,332
Criterion - 315
Curtis Mathis - 304,338,309
Daewoo - 341,312,309
DBX - 314,336,337
Dimensia - 304
Emerson - 319,320,316,317,318,341
Fisher - 330,335
Funai - 338
General Electric 329,304,309
Go Video - 322,339,340
Goldstar - 332
Hitachi - 306,304,305,338
Instant Replay - 309,308
JC Penney - 309,305,304,330,314,336,337
JVC - 314,336,337,345,346,347
Kenwood - 314,336,332,337
LXI (Sears) - 332,305,330,335,338
Magnavox - 308,309,310
Marantz - 314,336,337
Marta - 332
Memorex - 309,335
Minolta - 305,304
Mitsubishi / MGA - 323,324,325,326
Multitech - 325,338,321
NEC - 314,336,337
Olympic - 309,308
Optimus - 327
Panasonic - 308,309,306,307
Pentax - 305,304
Philco - 308,309
Philips - 308,309,310
Pioneer - 308
Quasar - 308,309,306
RCA / Proscan - 304,305,308,309,311,312,313,310,329
Realistic - 309,330,328,335,324,338
Sansui - 314
Samsung - 322,313,321
Sanyo - 330,335
Scott - 312,313,321,335,323,324,325,326
Sharp - 327,328
Shintom - 315
Signature 2000 (M. Ward) - 338,327
SV2000 338
Sylvania - 308,309,338,310
Symphonic - 338
Tashiro - 332
Tatung - 314,336,337
Teac - 314,336,338,337
Technics - 309,308
Toshiba - 312,311
Wards - 327,328,335,331,332
Yamaha - 314,330,336,337
Zenith - 331

Multi Disc Player Code Numbers:
Sony - 701
Panasonic - 704,710
Pioneer - 702

DVD Code Numbers:
Sony - 751
Panasonic - 753
Pioneer - 752
RCA - 755
Toshiba - 754

Cable Box Code Numbers:
Hamlin/Regal - 222,223,224,225,226
Jerrold/G.I. - 201,202,203,204,205,206,207,208,218
Oak - 227,228,229
Panasonic - 219,220,221
Pioneer - 219,220,221,214,215
Scientific Atlanta - 209,210,211
Tocom - 216,217
Zenith - 212,213

DBS Receiver Code Numbers:
Sony - 801 (Preset code for remote control)
General Electric - 802
Hitachi - 805
Hughes - 804
Panasonic - 803
RCA / Proscan - 802,808
Toshiba - 806,807

You can avoid all this unnecessary Sony universal remote code programming with our Universal Remote Control
Our pocket sized remote will work on EVERY type of TV!
No programming needed. Takes 3 seconds for setup!
With our Universal Remote Control, you have instant control over virtually any TV anywhere in the world. All you do is simply hold the mute button for 5 seconds and you have total control to change channels, turn volume up or down, power on or off, or mute.There is NO need to enter a confusing universal remote code for each television.
Our Universal Remote Control works on all TVs all over the world. Not only does it work on all TVs, it also works on large screen Plasma and HDTVs. We guarantee this Universal Remote Control will work for your TV, or your money back! Most Sony TVs will respond in 3 seconds, some brands may take up to 20 seconds.
The Universal Remote Control is so small, you can easily fit it in your pocket, purse, or wallet. It also has a strong keychain clip if you would like to attach it to your keys.
This Universal TV Remote Control comes very handy when you stay at hotels, Dr office waiting rooms, sitting at bars, and fitness gyms. The remote will not mess up any programming on your existing TV! It will simply act as a replacement for your broken or lost universal television remote.
Universal Remote Control Simple Setup

* Point it at a TV set and press the Mute/Power button. (Mute button if TV is already on, or Power button if the TV hasnt already been turned on)

* Keep pointing it at the TV until the TV turns on or muted, most TVs respond in about 5 seconds, the most is up to 20 seconds. (Other universal television remote you find in stores take minutes to program and enter long confusing codes)

* Once the TV is muted or turns on, simply let go of button and you have total control. You can use the remote as if you had the original remote, and responds instantly. ENJOY YOUR FREEDOM of choices with our remote!
Most remote controls require minutes of programming a universal remote code into each television while you read the confusing instruction manual.
| | |
| --- | --- |
| | |
| Press mute until muted or appears on screen | Now you have total control of television |
Great Uses for our Universal Remote Control
Replace Lost or Broken Home universal television remote - Our universal remote control iis an excellent replacement for any television. Whether you have a broken remote or just need an extra for others to use at the house, this will work on absolutely any TV in the world. Having this handy remote is a great idea if you are tired of trying to find lost remotes for different TVs all over your house.
Sitting In Waiting Rooms - Has there been times you have been sitting bored out of your mind in waiting rooms having to watch awful television shows? Have you just wished you had the remote so you could simply flip to any channel you wanted instantly? Now its possible with our Universal TV Remote Control!
Playing Hilarious Jokes and Pranks - This is the ultimate gag, joke, and prank item for any age. You can drive your friends and family crazy wondering what is going wrong with their TV sets. The Universal TV Remote Control is so small, you can easily hide it in your hand. While visiting friends or family, you will finally have full control to change channels, turn the volume up or down, or just turn the TV off.
Staying in Hotels - Dont you hate when you are exhausted from traveling all day, finally get to a hotel and cant even find the universal television remote? You will never have to worry anymore with our Universal TV Remote Control. Simply hold down the remote button for 3 seconds, and you have total control of that TV the rest of the night!
Nurses at Hospitals - Many of our customers are nurses who work at hospitals, who get tired of trying to find universal television remotes lost in bedsheets or stolen from patients. Nurses can simply carry this handy Universal TV Remote Control in their pocket and nevery have to worry about finding the lost remote again. Also very convenient for bartenders and waitresses.
The Problem with other Universal Television Remotes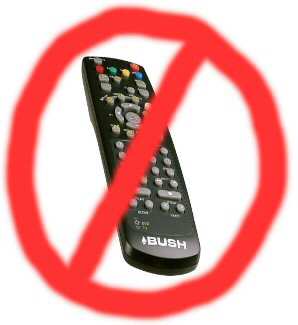 You may already know, the best thing about our Universal TV Remote Control, is how simple it is to use. Most Universal Remotes you see sold in stores, have a manual included with a very long universal remote code that has to be programmed into each television to be able to work. If your TV goes out, and needs to be re-programmed, you will need to enter all this information each time, and for each TV you want to use. If you end up losing the manual and universal remote code, you will no longer be able to use the remote.
TV Remote Will Work on All Television Models
| | | | |
| --- | --- | --- | --- |
| Sony | Mitsubishi | Samsung | Panasonic |
| Olevia | Hitachi | Toshiba | Philips |
| Sharp | JVC | Sanyo | Zenith |
| RCA | Magnavox | GE | Jensen |
| TCL | Aiwa | NEC | Goldstar |
| Olympic | LG | Nikon | ...and many more! |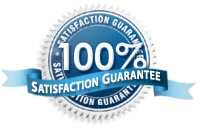 We have not yet found a TV our remote will not work on. In a rare even that it will
not work on your TV, we will refund your money no questions asked.

If you have already purchased a remote from the store, and you have
lost your universal remote code, here are some helpful codes for you.